The Sounds True Blog

Insights, reflections, and practices from Sounds True teachers, authors, staff, and more. Have a look—to find some inspiration and wisdom for uplifting your day.

The Power of Mapping Your Emotions

Insights At The Edge

Tami Simon's in-depth audio podcast interviews with leading spiritual teachers and luminaries. Listen in as they explore their latest challenges and breakthroughs - the leading edge of their work.

This Week:


Steve Macadam: Enabling the Full Release of Human Possibility … at Work
600 Podcasts and Counting...
Subscribe to Insights at the Edge to hear all of Tami's interviews (transcripts available, too!), featuring Eckhart Tolle, Caroline Myss, Tara Brach, Jack Kornfield, Adyashanti, and many more.
It's in everyone's best interest to learn to remove the emotional blinders and identify emotions accurately, both the uncomfortable and the upbeat ones. After all, unpleasant emotions are normal and natural, a fundamental part of being human. Emotions fluctuate on a daily basis, often several times in a given day. If you didn't experience negative feelings now and then, the positive ones wouldn't be as noteworthy or joyful; your emotional life would likely be unnaturally narrow. You would also be deprived of the opportunity to glean important insights into yourself. Feelings, both the good and the bad, are silent messages, alerting you to pay attention to something in your personal or professional life, in your behavior, or in the world around you.
Instead of separating emotions into categories such as good or bad, positive or negative, happy or sad, it's better to view all your emotions as useful information, as "evolutionarily evolved responses that are uniquely appropriate to specific situations," says Karla McLaren, MEd, author of The Language of Emotions. "When you stop valencing, you'll learn to empathically respond to what's actually going on—and you'll learn how to observe emotions without demonizing them or glorifying them."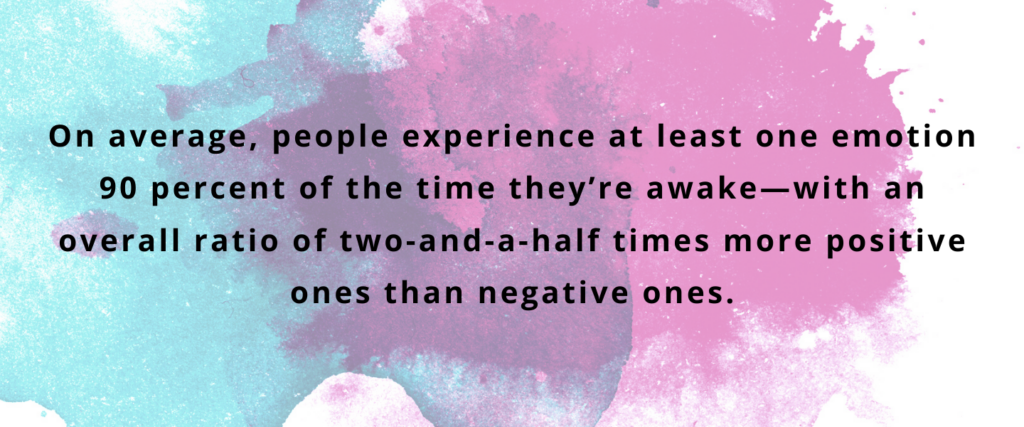 Being able to recognize and express what you're feeling helps you better understand yourself (leading to greater self-knowledge); validate your emotions and tend to your own emotional needs; and take steps to address those feelings directly by communicating and responding to them effectively. Having emotional self-awareness can motivate you to make healthy changes in your life, take action to improve the world around you, and become more psychologically resilient—that is, better able to cope with crises and rebound from setbacks.
Learning to Unpack Your Emotions
For some people, engaging in free association can clear the cobwebs from their minds, almost like opening the cellar door to a musty basement and letting in light and fresh air. To do this, you might take a break and consider how you're feeling about what you're doing, reading, seeing, or thinking every few hours throughout the day. If a general word comes to mind—such as stressed, anxious, or angry—dig deeper and ask yourself what other emotions you might be feeling (maybe fear or annoyance) along with it. If you do this out loud in unedited, private moments, you might find yourself blurting out what you're really thinking or feeling, revealing the emotions that are taking a lot of energy to keep inside. This is really about unpacking your suitcase of feelings, or untangling the knot of emotions that is taking up space inside you.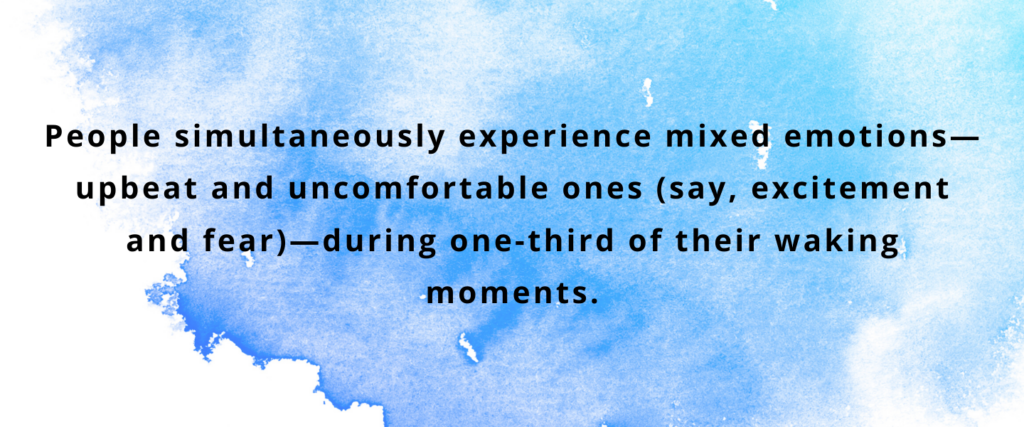 When you think about this in the abstract, it can be hard to pinpoint how you're feeling. You may just see a swirling mass of a feeling quality such as "dread" or "foreboding" rather than recognizing the specific emotions you feel. To get to the root of your feelings, spend five minutes looking at the word cloud below—no more than five so that you don't have time to filter your responses—and choose the emotions that resonate with your mood-state lately.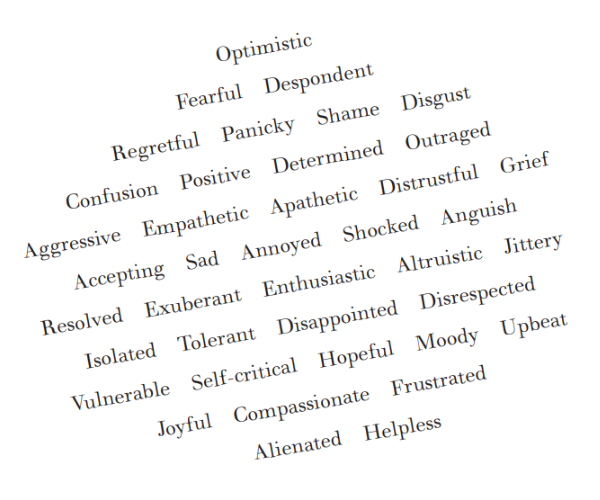 If reviewing these words evokes other feelings for you or if words or phrases that apply to you were not on this word cloud, jot these down in the blank word cloud that follows. Give yourself another five minutes to think about your recent state of mind and jot down phrases, images, or words that occur to you. This is your opportunity to personalize it without any limits or restrictions. If you feel stymied or draw a blank initially, think about your recent responses to current events or situations in your personal life or on the world stage. Try to be as honest as you can by focusing on how you're really feeling when no one is watching—free-associate without judging, censoring, or revising what you write down.
Once you've finished your list, look at the order of the words you wrote down: Did they progress from all negative to increasingly hopeful? Do they portray an internal tension or friction in going back and forth between various feelings? If all the words are positive, consider the possibility that you may be in some degree of denial, focusing only on the window dressing rather than the emotions that lie beneath the surface. Also, consider this: Is there a pattern of shallow, visceral reactions that came out initially, followed by more complex thoughts and feelings? If so, think about whether you're giving yourself enough time in your life to reflect. If you came out with highly intellectualized words or phrases first, it might suggest that you put on a bit of a facade when engaging with the world, and you might benefit from striving for a deeper engagement or familiarity with your emotions.
This is an excerpt from Emotional Inflammation: Discover Your Triggers and Reclaim Your Equilibrium During Anxious Times by Lise Van Susteren, MD, and Stacey Colino.
Steve Macadam was, for 12 years, the President and CEO of EnPro, a $1.4 billion publicly traded company. He received a BS in mechanical engineering from the University of Kentucky, an MS in finance from Boston College, and an MBA from Harvard University, where he was a Baker Scholar. He currently serves as an independent director on the boards of Louisiana-Pacific Corporation and Valvoline Inc. In this week's podcast, Tami and Steve discuss what it means for a company to have "dual bottom lines," and the aspiration to create a business with the formal purpose of enabling the full release of human possibility. (1 hour, 13 minutes)
It's time to start unraveling the mystery of you by exploring your current state of mind. Think of this as an adventure, a path toward greater self-understanding and self-compassion—and an expanded appreciation of the complexity of you. To get a sense of the modern-world issues that tend to rile or upset you, put on your imaginary miner's hat and head into the depths of your mind to see what lies below your conscious awareness. (You may want to do this with a trusted friend or partner.)
Consider your true feelings about the following subjects, without letting preconceived ideas about the right or politically correct way to think or feel about these subjects guide you; simply let your real feelings flow out of you in a free-association style.
Have a journal and a piece of paper ready. As you read the following words and phrases, jot down the first three to five words or phrases that come to your mind in response (don't edit or change what occurs to you instinctively):
• Climate crises
• Me Too scandals
• Human rights abuses (on a grand scale)
• Political corruption
• Racial, religious, gender, or political discrimination
• Environmental threats (toxins in our midst)
• Volatile financial circumstances
• Natural disasters (wildfires, floods, storms)
• International threats
• Social divisiveness in this country
• Hate crimes
• Nuclear weapons threats
• Gun violence
If other current events are triggering emotional inflammation for you, write them down in your journal or on a piece of paper.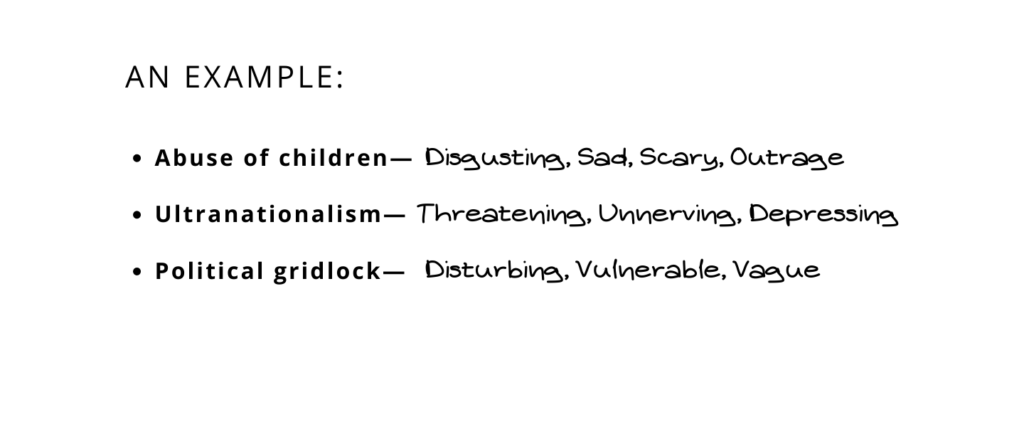 Don't worry if you feel put on the spot, thought-tied, and unable to come up with the right words to describe how you feel in response to the prompts listed above. Take a deep breath, exhale, and peruse this sample response. Rather than letting this person's examples sway or influence you, try to use them as inspiration to unlock the floodgates on your true feelings.
Now it's your turn!
After you've completed your list, assign a value to each of these concerns in terms of their potency for you on a scale of 0 to 3 (with 0 being neutral and 3 being intense). Do this quickly so you don't have too much time to think about it or second-guess your instinctive responses. Once you've finished this, place these triggers into a hierarchical list from a potency of 3 to 0, based on how they affect or resonate with you. This will give you a sense of what is likely to get you riled up these days.
If you want to dig a bit deeper, think about the way you responded to the descriptions of certain triggers—that you felt disgusted, violated, sad, and threatened when you thought about Me Too scandals, for example—then consider whether any situations from your past have evoked similar feelings for you. As you may see, emotional injuries or reverberations from the past can make you vulnerable to similar insults and assaults in the present. It's almost as if you have an emotional ember lying beneath your consciousness, and it's predisposed to flaring up from time to time. If you hear a single piece of distressing news and find yourself reacting surprisingly strongly to it, think about what else may be crashing around you or whether the news has somehow opened Pandora's box and exposed you to a deep abyss of other fears and worries. Or it may be that a more superficial emotional injury is on the way to healing but then the scab gets ripped off and the wound bleeds again when another upsetting event occurs.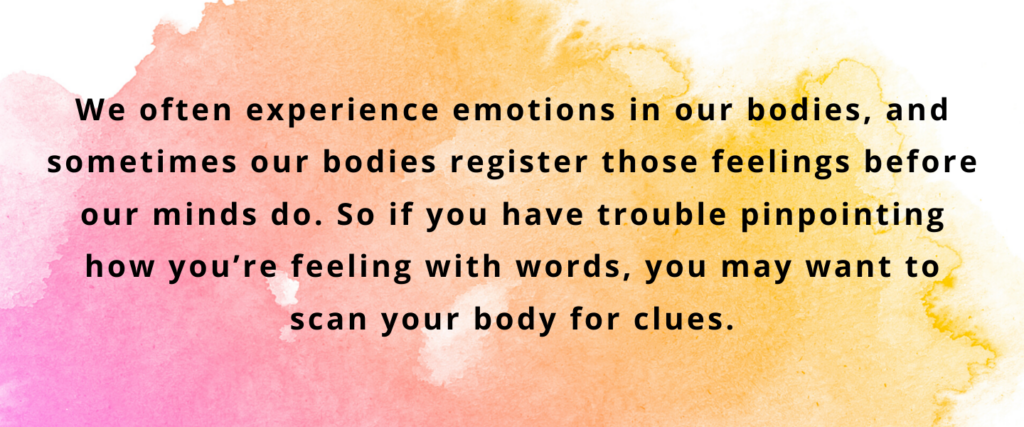 As it happens, we often experience emotions in our bodies, and sometimes our bodies register those feelings before our minds do. So if you have trouble pinpointing how you're feeling with words, you may want to scan your body for clues. When researchers in Finland performed a series of cross-cultural studies with 701 people from West European and East Asian cultures, they had the participants view various words, stories, movies, or facial expressions, then color specific regions on silhouettes of bodies where they felt activity increasing or decreasing while they viewed each stimulus. This exercise in mapping bodily sensations in response to emotions revealed that basic emotions—including anger, fear, disgust, happiness, sadness, and surprise—were associated with sensations of elevated activity in the upper chest, which likely reflects changes in breathing and heart rate. Increased sensations in the arms and torso were associated with anger. Decreased sensations in the arms and legs corresponded to sadness. And increased sensations in the gut (the digestive system) and throat were found primarily with disgust. The most fascinating revelation was that these effects rang true among people cross-culturally.
So if you have a mental block that makes it difficult to recognize your emotional triggers (which some people do, in a subconscious effort to protect themselves from emotional discomfort), paying attention to your bodily sensations can give you clues about what you're experiencing. Even if you are highly attuned to your emotional reactions, sometimes they can sneak up on you, and you might experience a particular bodily sensation before you are aware of the actual trigger or your response to it. That's because we all have blind spots to reflexive emotional states we're susceptible to experiencing.
This is an excerpt from Emotional Inflammation: Discover Your Triggers and Reclaim Your Equilibrium During Anxious Times by Lise Van Susteren, MD, and Stacey Colino.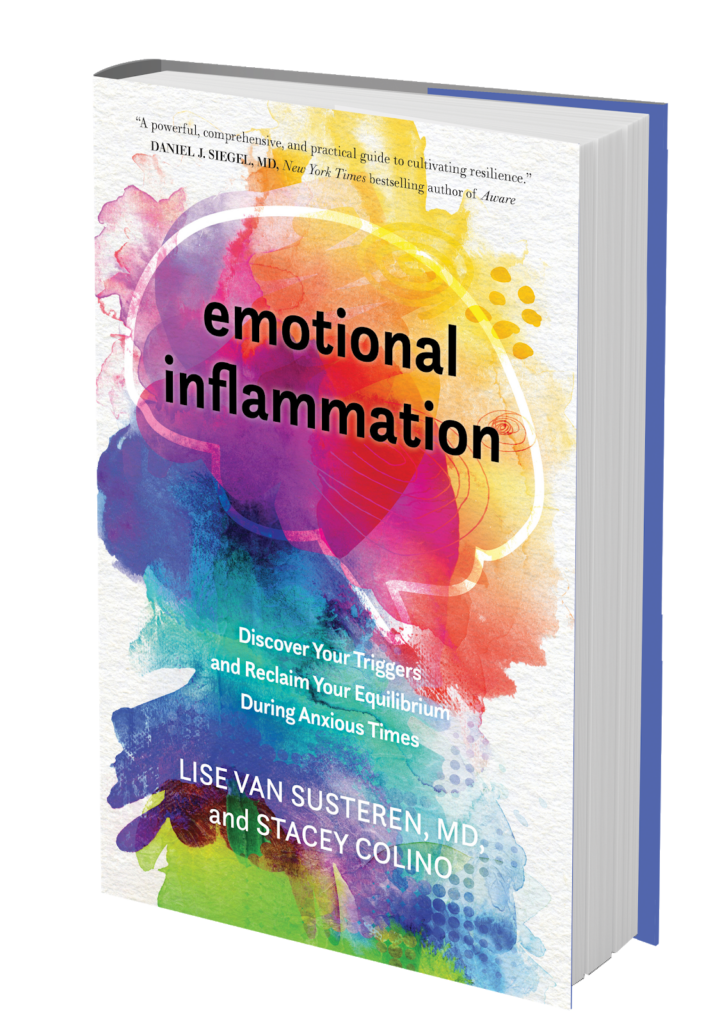 Tami Simon speaks with Donna Eden, a renowned energy medicine expert who has taught throughout the US, Australia, New Zealand, Europe, and South America. Along with her partner, Dr. David Feinstein, Donna is author of the books Energy Medicine and Energy Medicine for Women. With Sounds True she has produced the multimedia program The Energy Medicine Kit. In this episode, Tami speaks with Donna about her experiences as someone who both sees energy and has healed herself from serious medical challenges. Donna also shares two energy practices: a technique to evolve our fight-flight-or-freeze response, and another for opening with total trust to the energy of the heavens. (1 hour, 3 minutes)
Sister Joan Chittister is an American theologian, Benedictine nun, and the author of more than 50 books. For over 40 years, she has passionately advocated on behalf of peace, human rights, women's issues, and church renewal. This week's podcast shares with you an excerpt from Sister Joan's audio program, Catching Fire: Being Transformed, Becoming Transforming, a seven-hour conversation with Tami Simon intended to spark the fire of the divine within each one of us.
Scott Shute is the head of LinkedIn's Mindfulness and Compassion Programs and a featured trainer in the Inner MBA, a nine-month immersion program that Sounds True has created in partnership with LinkedIn, Wisdom 2.0, and MindfulNYU. In this week's podcast, Tami Simon and Scott discuss the new revolution that is underway at today's workplaces. Their conversation explores the importance of being present in order to find strength from the inside, learning to relax our minds and bodies, integrating spirituality and business, the power of compassion to shift a workplace from "me-centered" to "we-centered," and much more. (57 minutes)
Lance Allred is a former NBA player (who was the first legally deaf player in the league), public speaker, and author. With Sounds True, he has published The New Alpha Male: How to Win the Game When the Rules Are Changing. In this episode of Insights at the Edge, Tami Simon speaks with Lance about the experiences he had in professional sports that led him to reevaluate what it means to be a man in contemporary society. Lance explains how his upbringing in a rural, polygamous commune informed his original ideas about masculinity, highlighting the subconscious assumptions about money and power that affect American men's self-worth. Tami and Lance also discuss the roles of emotional vulnerability and surrender in the lives of modern men. Finally, they talk about the principle of perseverance and the increasingly urgent need for all cultures to reexamine their assumptions and core values.(63 minutes)
Micah Mortali is the director of the Kripalu School, a certified yoga teacher, and a longtime wilderness guide. With Sounds True, he has published Rewilding: Meditations, Practices, and Skills for Awakening in Nature. In this episode of Insights at the Edge, Tami Simon speaks with Micah about humanity's growing disconnection from the earth and how "rewilding" can help slow that trend. They talk about rewilding both as individuals and as part of whole ecosystems. Micah also shares the story of an intense, revelatory trail encounter with a bear and comments on the "species loneliness" of urban environments. Mulling the sense of grief they have for humankind's effects on the environment, Tami and Micah consider how modern people can grapple with being in exile from the natural world. Finally, they discuss the barriers many have to reentering nature, as well as ways to initiate your own rewilding experience no matter where you are.(64 minutes)
Christian Conte, PhD, is a mental health specialist and leading authority on anger management. With Sounds True, Christian has published Walking Through Anger: A New Design for Confronting Conflict in an Emotionally Charged World. In this episode of Insights at the Edge, Tami Simon talks with Christian about his Yield Theory of emotional management, focusing on the process of "listen, validate, explore options." Christian explains the events that led to his interest in anger management, as well as the origins of Yield Theory. He emphasizes the importance of meeting others where they are, giving them the opportunity to drain anger's charge from their limbic system. Christian and Tami discuss why it's necessary to cultivate humility and how Yield Theory might be applied to our currently divisive culture. Finally, they speak on "the cartoon world" that angry responses often create, as well as the importance of watching what we add to our minds.(63 minutes)