Dear Sounds True friends and community,
While holding a mirror to our own organizational accountability, Sounds True unequivocally stands in solidarity with the Black community, the family of George Floyd, and the many others who have been victims of police brutality and ongoing racial injustice.
We stand with and for our Black employees, our Black authors and colleagues, our Black customers, and all of the protestors and social change activists—past, present, and future— who are working to put an end to racism in every corner of our society.
And we are committed to not just stand in solidarity but to step up.
Since George Floyd's murder, we have been having many in-depth discussions among the 125-person staff at Sounds True about the most meaningful actions we can take as a transformational learning company to help educate ourselves and our community and contribute to the dismantling of racism.
We have been asking ourselves questions such as:
How can we best use our platform to better amplify the voices of wisdom teachers who are Black, Indigenous, and People of Color (BIPOC)?
What's in our Shadow, as individuals and as an organization? What unconscious areas must now be brought into awareness?
And how do we actively address these areas so that we can evolve as an organization and be a force of genuine service in the world?
The answers to these questions are not simple, quick, or easy. It has taken me a while to write this email to you, our beloved customers and Sounds True community, because we have felt as a team the need to listen carefully and look deeply within in order to lay out an action plan moving forward that will contribute to meaningful and substantive change.
Anything less falls short of what I believe this moment is asking of us.
We also want to learn and evolve in partnership with you. We are learning and growing together as a community, and it has been important for us to create a moving-forward action plan that invites engagement from our entire audience.
With arms wide open, I invite you to witness, support, and step up with us in the following ways:
Over the next two years, Sounds True will be undergoing an in-depth Diversity, Equity, and Inclusion Training in the workplace. This training initiative has been in development for over a year, and will be provided by TMI Consulting, led by Dr. Tiffany Jana. Dr. Jana is coauthor of the books Overcoming Bias, Erasing Institutional Bias, and Subtle Acts of Exclusion. As part of the training, we will be uncovering how unconscious bias, microaggressions, and micro-acts of exclusion show up in the workplace, in our personal lives, and even in our products. The training also includes a thorough audit of Sounds True's hiring practices, HR policies, marketing materials, and more.


Sounds True also wants to include our customers, authors, and partner businesses in the introductory phase of this training process that we will be embarking upon. With that in mind, we are hosting a three-part webinar series on "Healing Racism" with Dr. Jana, beginning on Wednesday, June 24, at 8:00 pm ET | 5:00 pm PT. The series is free, and we are inviting our customers, authors, and business associates to join the Sounds True staff for this online training and to walk this part of our journey together. As someone on our email list, you will be receiving all of the details in future emails.
It is clear to us at Sounds True that we need to publish and otherwise amplify the voices of more authors and presenters who are Black, Indigenous, and People of Color. If you have ideas about new BIPOC authors you would like to see published at Sounds True or included in our summits and online offerings, please write to us at acquisitions@soundstrue.com.


The Sounds True Foundation, formed in 2018, is increasing its efforts to raise scholarship funds for BIPOC students to attend our Mindfulness Meditation Teacher Certification Program and become trained as mindfulness teachers who will bring this practice to diverse communities all over the world. We will be hosting a virtual fundraiser on June 30 for this initiative and will be emailing you with more details.
As I mentioned, working to dismantle and heal racism—in ourselves, in our organization, and in our world—is not a flash-in-the-pan effort at Sounds True. This is a long-haul commitment to the creation of a different world that is just, kind, and equitable. And we have a heckuva road to travel with you to get there.
And we are committed. We don't want to simply talk about spiritual awakening. We want to embody it … as individuals, as a company, and as a force in the world. Humbly and boldly, we are going to give everything we have and invite you to do the same. This is the time for us to step up, together.
With love on the journey,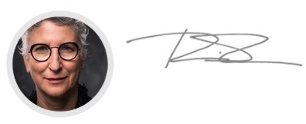 Tami Simon
Founder and Publisher, Sounds True
P.S. You can learn more about our commitment to creating a more compassionate world here.