I would like to open with a grounding meditation. Feel free to listen to the meditation here or you can read along with the text below.
If I may, I'd like to guide you someplace warm. To an island not too far away. It won't take much effort, just a few conscious breaths. And all I need for you to do is to stop. For this moment, stop seeking, stop solving, stop gritting and grinding. All you need is to close your eyes and receive. 
Quiet now, like water or sand. Settle now, like dusk and dew drop. One breath in, one breath out. One breath in, one breath out. Reorient yourself to face toward what is immovable inside you. Just look now. Trust and you shall see. It is there, to the left of your right lung, tucked just under your left rib, a warm small island, beating like a drum.  If you stand here long enough, you will feel the song inside being written, maybe even prayed over you. Moment by moment, it never stops. 
Can you feel you are unlacing something? Or better, something is unlacing you? Can you feel the fight stopping? The fear quieting? Can you feel your edges becoming more like wind or water, rather than shale and stone? Can you feel the light coming? The waves of warmth rising? 
Now move into this current of grace that your heart has created for you, and feel the great hush wash over you. Feel the substance of love holding your very atoms together. This is your heart, dear one. Never forget this is yours. Kneel here, whenever you are thirsty, whenever your feet are tired, or your hands are sore. Kneel here when you can't see love any longer. Kneel here, dear one. Reorient yourself toward what is immovable in you.
My new book, Heart Minded: How to Hold Yourself and Others in Love, was written to help remind us, reconnect us, reorient us with our hearts. Through story and guided meditation, I lead you through the fraught and sometimes frightening places holding you separate from your heart. It is a journey of healing that teaches you how to see and feel not from the mind, but from the wise seat of your very heart.
Now more than ever, we are being asked to move into the consciousness of the heart. Where love, compassion, "at-one-ment" become our governing virtues. When we see through the eyes of the heart, when we become heart minded, we stand as a beacon of light, burning back the dark.
Please join me in the heart-minded revolution. 
This originally appeared as an author letter to the Sounds True audience from Sarah Blondin.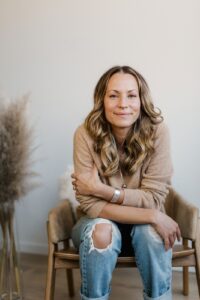 Sarah Blondin is an internationally beloved spiritual teacher. Her guided meditations on the app InsightTimer have received nearly 10 million plays. She hosts the popular podcast Live Awake, as well as the online course Coming Home to Yourself. Her work has been translated into many languages and is in use in prison, recovery, and wellness programs. For more, visit sarahblondin.com.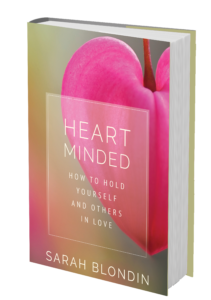 Learn More