In the whirlwind of holiday parties, gift-giving, and cooking, you can lose your grip on financial integrity faster than slipping on ice. But, your integrity is essential to your happiness and your self-worth. Here are a few easy ways to regain your center and empower your choices to give from your heart instead of your wallet.
Treasure Connectivity
When your presence is truly a gift to others, you won't find yourself needing to overspend. Practice loving presence with the little interactions you have through the day. Slow down. Listen more. Smile more. Appreciate the uniqueness of the person in front of you. When you treasure connectivity, you won't find yourself spending money on things that aren't in alignment with your values.
Affirm Your Unique Values & Convictions
Speaking of aligning to your values … what are YOUR values? What do you value about the holidays? About gifting? About receiving? About money? Take a minute and write down your values and your convictions about the holidays. Read your convictions before bed, and upon arising. You'll be more likely to live up to your convictions with money. And when you don't, you'll be very clear exactly what value you violated. When that happens, stop. Notice. Course correct.
Gift from Your Values
Whether you're baking cookies or filling stockings, make each an act in alignment with your convictions. At first you may be aware of how your extended family or friends have different trends, values, or convictions. That's ok. Notice. And be YOU. Be in your integrity. Make your people paleo gingersnaps or whatever you find nourishing and delightful. Tell your people why you gift how you gift. They love you for being you. And you being you will help them find their own financial integrity.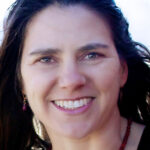 Cate Stillman has been teaching audiences how to create health and wellness through yoga and Ayurveda since 2001. She is the author of Body Thrive, and hosts the Yogahealer Real Thrive Show, a weekly podcast featuring dozens of experts in the field. She splits her time between the Idaho border country and Mexico.