Holidays are a mixed blessing … they're times when we take a pause from our daily routines and share more personal time with family and friends—some who we love unconditionally, and those that we love "almost" unconditionally (as long as we don't talk about politics, the environment, the world, etc.).
Here are a few easy suggestions to help show up in all holiday situations, while maintaining full presence and a sense of calm.
Seek Moments of Stillness
Look ahead to your holiday social events, then plan for intermittent moments to be by yourself for creating stillness, physically and mentally, away from the hustle and bustle of family activities (or the TV). It's easier than you think, especially if you are truthful about its importance for your health with those around you. If they are curious what it does for you, encourage them to try it too. And after, be curious about their experience as a conversation-starter when you're together again.
Seek Moments of Silliness
Calm is not easy when our mind is preoccupied and struggling with the chaos often found during the holidays. Luckily the human species is bestowed with the gift of humor and light-heartedness, which research shows is capable of overriding the mind's obsessive or compulsive tendencies to overwhelm our emotions, and take us out of the present. Engaging in a bit of silliness is literally child's play and an elixir to bring us back to the present that helps strengthen connection and community.

Breathe Slow and Soft
Awareness of breath is one of the most common techniques for staying present in our "moments" during the holidays. By simply making the sound of our breath soft and the breath's rhythm slow, we create a more naturally conscious state of being that stimulates our body's parasympathetic response. This releases the tension and stress our sympathetic nervous system naturally creates during times of anxiety or distress. Remembering this during the upcoming season is truly the best gift you can give!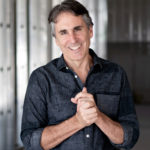 Peter Sterios, author of Gravity and Grace, is a popular yoga teacher and trainer with over four decades experience. He's the founder of LEVITYoGA™ and MANDUKA™, as well as KarmaNICA™, a charitable organization for underprivileged children in rural Nicaragua. Sterios taught yoga at the White House for Michelle Obama's anti-obesity initiatives for three years, and in 2018 he was invited to the Pentagon to share yoga's therapeutic effects with the US Marine Corps. He resides in San Luis Obispo, CA. For more, visit LEVITYoGA.com.
The community here at Sounds True wishes you a lovely holiday season! We are happy to collaborate with some of our Sounds True authors to offer you wisdom and practices as we move into this time together; please enjoy this blog series for your holiday season. 
To help encourage you and your loved ones to explore new possibilities this holiday season, we're offering 40% off nearly all of our programs, books, and courses sitewide. May you find the wisdom to light your way.